It's obvious who your best clients are. The companies that get sued the most. This isn't always the big companies.
If you don't have the data, you don't know.
These are the companies with the most Employment lawsuits in Miami, Florida.
ABG Caulking & Waterproofing Inc., a company you have likely never hear of, is the 2nd busiest litigant in the court with more employment litigation than either the County or the City.
What's more, they've lost every case.
That is clearly the account your employment litigators should be targeting.
Most law firm account pitches are alike.
"We're a great firm", "One of our senior partners won an important case", "We have a good reputation", "We have XYX[paid] award", "We sponsor the golf tournament/opera/charity dinner", "We have impressive offices", etc, etc.
"Give us all your business."
The General Counsel hears the same pitch from every firm, and moving all their litigation is a massive task, so stays with their current provider, or gives the next case to whoever took them golfing last.
Imagine that same pitch with a Premonition Company Report in hand…
"You're doing well with your negligence cases, that was a wise choice of law firm.
You should stick with them, we can't do better.
However Contract cases are an obvious source of pain, you're only winning 13%.
If I could show you, prove to you that we had better people there.
Would you try us, just for that one area?"
That's not making a sale, it's taking an order.
You can drill down further by individual lawyer…
"You've hired some good people.
But you have some people that aren't delivering the results you deserve.
We have better people than that.
Would you try us, just for those cases you're struggling with?"
Not knowing about litigation issues is ignorance.
Knowing about litigation issues and letting them continue is negligence.
The client has to give you the business.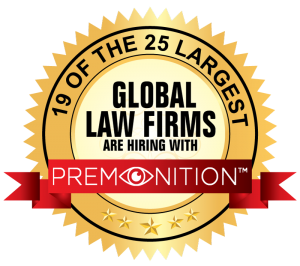 If you have to hire an Attorney anyway.
Why not hire a great one?
Hiring by Win Rate means:
A justifiable higher hourly billing rate.
More Court wins.
Easier Client acquisition.
Internally defendable losses.
Prestige.